Back-To-School...With A Purpose!!!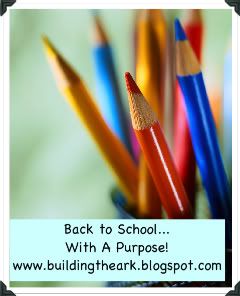 Contact me at patjrsmom at yahoo dot com if you'd like the code for the blog button to help spread the word!
I am simply so excited to finally share with you this project! One major component of our adoption agency's program is the requirement that adoptive families commit not only to the child(ren) they are adopting, but also to those who wait for a forever family. (You can read about our last project here and here.) As part of the Ark's commitment to the waiting children, we invite you now to join with us in an effort to share the many blessings we have.
Beginning today until my mail arrives on September 17th, we will be collecting school supplies to bring to our agency's orphanage. Our family will transport school supplies to Ethiopia during our travel in late September. Any supplies are welcome, but some particularly useful items would be:
- tape: scotch, masking, and clear packing tape, and labels
- pencils
- envelopes
-
dry erase markers
- yarn
- crocheting needles &
knitting needles
-crayons
-markers
-colored pencils
-water color paints
-clay/play-doh
- a parachute (they finally found the one that was there but it's ripped and unusable)
A missionary sister working in Africa once visited my class of second grade students to talk about her work. When the students asked, "How can we help?" She quickly responded, "Pray---and make sacrifices." In that order, I might add. We need to remember that prayer should be our first action, not a resigned "All I can do now is pray." We pray. God provides. And if you are so moved to send some school supplies too, well then, all the better!
Our hope is that this project will shine a light into the darkest corners of the blogosphere, illuminating hearts and minds in a call to action!

For additional information about Ethiopian adoption, or to learn about more ways to help Ethiopian orphans; please visit our agency's website at www.adoptionadvocates.org. You can also donate to them directly, (Although, it takes up less space in the suitcase, I feel a little funny personally collecting money online...)by clicking on the "Donate Now" button in the bottom right corner of their site.
And...
if helping others wasn't motivation enough, I'm throwing in a few goodies as giveaways!
Courtesy of
The Catholic Company
:
Catholic Classics: Volume VII African American Sacred Songs
and
Audrey, reviewed here
.
So, whether you are praying, donating or both, please leave a comment below (including your name and email) and your name will be entered. If your group (i.e.-scouts, school group, etc...) collects things together, feel free to enter each name for multiple chances!
Please help spread the word, not just about our little project, but to remind others of the many opportunities we have to share what we have been given.
Thank you for your generosity in helping the orphan children, who are still waiting for a family.
Facts About Ethiopia
Did You Know? •

Average family income is $110 US per year •

Life expectancy is 48 years • Adult literacy rate is 42% •

Malnutrition is responsible for more than 50% of all deaths among children under 5 •

12% of children (10-14) living without their parents in the capital city are domestic workers •

There are approximately 5 million orphan children living in Ethiopia •

Poverty, famine and disease are responsible for most deaths •

Only 43% of children attend school •

There are about 70 million people living in Ethiopia •

Of this number, 58 million live on less than $1 per day






Source: UNICEF, UNAIDS